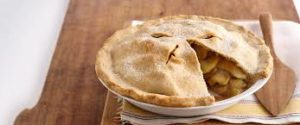 Did you know that 90% of Americans agree that a slice of pie represents one of the simple pleasures in life? The American Pie Council also reports that for nearly 50% of Americans, the word "comforting" comes to mind when they think of pie, and some 20% of them have eaten an entire pie by themselves.
We have pie! Plenty of pies to satisfy any craving and to make your holiday baking just a bit easier!
Apple, Banana Cream, Blueberry, Cherry, French Silk, Lemon Meringue, Pecan, Pumpkin Chiffon, and Pumpkin are available through the holiday season. Please be sure to call a few days ahead to reserve your delicious fresh baked pie!